1. Sparse Reward: Sparse reward means the agent is given a distinctively high reward only upon reaching the desired final goal state, provides the possibility to obviate designing a delicate reward mechanism. It also guarantees that the agent focuses on the intended task itself without any deviation. Though born with a simple form, sparse reward diminishes the chances for policy to converge, especially in the initial random exploration stage, since the agent can hardly get positive feedbacks.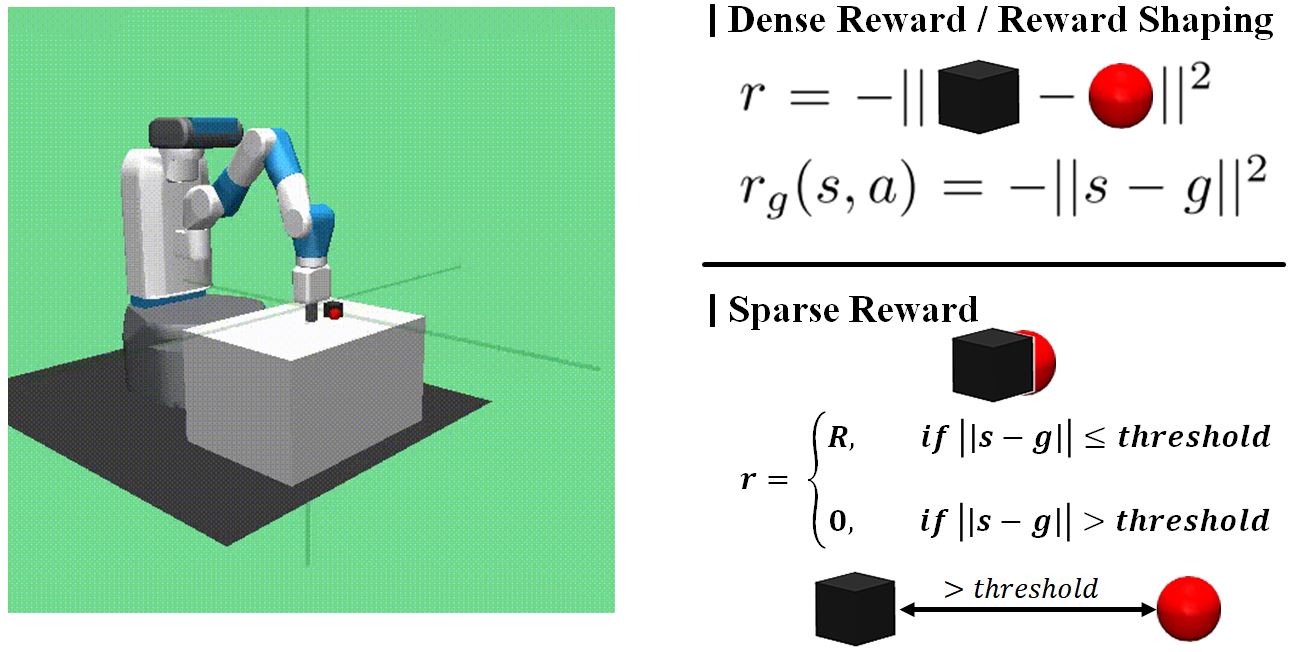 2. Hindsight: Hindsight refers to the algorithm's ability to learn from information across goals, including ones not intended for the current task. Take the robot arm end-effector reaching task as an example. Given a goal or target position g, the end-effector may not be able to reach it under some preliminary policy. Under the sparse reward mechanism, no reward is given at the moment, and this move would therefore become a waste for training. But it's important to notice that in general, the robot is learning to reach all target position in the physical space, not just the given goal; the only purpose for the given goal is to collect valid training samples in deep reinforcement learning. Thus, we can also use the position the end-effector actually reached as the hindsight goal g' so that this sample would be valid for training, and therefore, save a significant amount of extra sample collecting.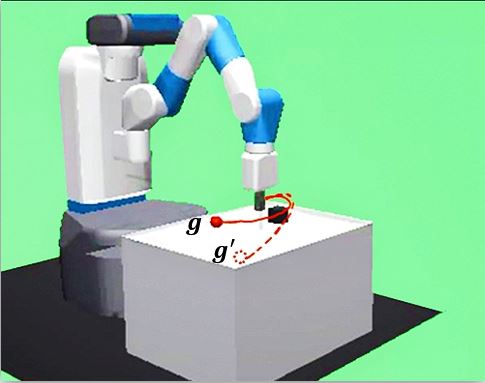 3. Trust Region Policy Optimization: Details can be found in this paper. The optimization problem can be written as follows:

4. HTRPO Optimization Problem: Starting from the optimization problem, (1) Rewrite the problem as an expectation form w.r.b. to goals; (2) Replace the goal of the sample-collecting policy with hindsight goal g' by using importance sampling; (3) Bound the trust region with Quadratic KL-divergence; (4) Discretize the problem with Weighted Importance Sampling. Details can be found in this paper. The optimization problem can be derived into the following form, and can be solved using Karush-Kuhn-Tucker (KKT) conditions.

5. Experiment Tasks: We evaluate HTRPO in various sparse reward tasks, including simple benchmarks, image-based Atari games, and simulated robot control. To be specific, HTRPO is tested in Bit Flipping, Empty Maze, Ms. Pac-Man, Fetch Reach, Fetch Push, Fetch Slide, Fetch Pick And Place, and Sawyer Reach. Demonstrations are shown below.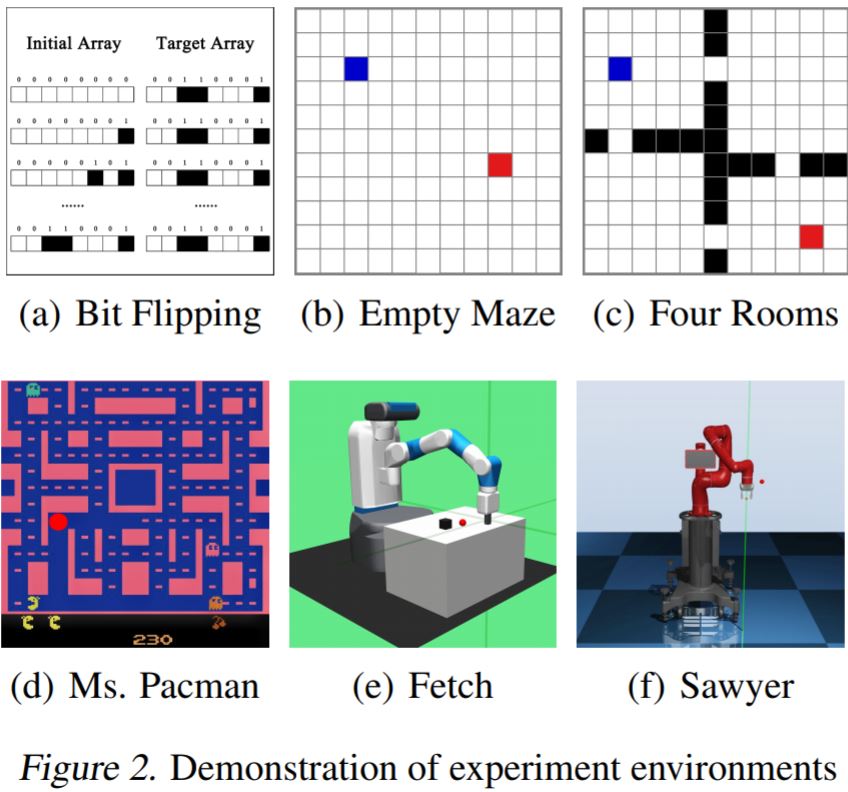 6. Results: Results show HTRPO's strong generality to different kinds of tasks and policies, and its significant improvement in performance level.